Excellence Equality Honesty
Boutique physiotherapy clinic
Multi-disciplinary healthcare services
Servicing the community for over 20 years
Physiotherapy in Ormond, Bentleigh & Mckinnon
We proudly offer Physiotherapy and a range of allied healthcare options.
Our mission is to enhance, restore and activate ones functioning, health and mobility following injury or illness.
Through providing safe, effective hands on treatment in a personalised one to one treatment environment.
We treat a wide range of conditions:
Contact us to get you moving pain free.
Latest News & Blog Posts
September 22nd – 24th is Migraine and Headache Awareness week. Headaches are unfortunately a part of life, with 9 out of 10 people experiencing them. Migraines, however, are a little less common affecting an estimated 5 million Australians. Although there are many different kinds of headaches, today we will focus on the cervicogenic headache. What is a cervicogenic… Continue Reading»
On September 8th, we celebrate World Physiotherapy Day! Physiotherapists are a special kind of person; they listen, help, nurture, and encourage. They always have our best interests at the forefront of their mind and want us to get back to moving as best we can! But, do you know what they are and what they… Continue Reading»
Posture is a complex concept. It is defined as the position in which someone holds their body when standing or sitting. Posture can be influenced by a number of factors. Physically, the variations of posture within people can be explained by a combination of muscular weakness, tightness and body shape. The complexity of posture can… Continue Reading»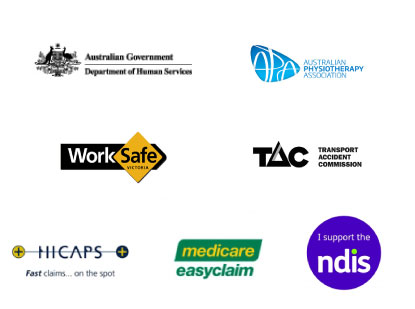 We've got you covered
We treat private patients as well as TAC, WorkCover, Veteran Affairs, Medicare EPC referred patients and are a NDIS registered provider.
We accept all major health funds for patients with private health insurance .
Payment is to be made at the time of your consultation . Payment can be made via Cash, EFTPOS, VISA and Mastercard. A HICAPS system is in place allowing health insurance rebates to be available at the time of your consultation.
Supporting the local Ormond, Bentleigh and McKinnon Community
Ormond Physiotherapy is a community based physiotherapy clinic that has some great local community sponsorship affiliations with a number of sporting clubs, health clubs, gyms and community centres in the surrounding suburbs of Ormond, Bentleigh, McKinnon, Caulfield, Carnegie, East Brighton and Glenhuntly. Read more about our local affiliations…