Excellence Equality Honesty
Boutique physiotherapy clinic
Multi-disciplinary healthcare services
Servicing the community for over 20 years
Physiotherapy in Ormond, Bentleigh & Mckinnon
We proudly offer Physiotherapy and a range of allied healthcare options.
Our mission is to enhance, restore and activate ones functioning, health and mobility following injury or illness.
Through providing safe, effective hands on treatment in a personalised one to one treatment environment.
We treat a wide range of conditions:
Contact us to get you moving pain free.
Latest News & Blog Posts
Last week we touched on a form of groin pain, Osteitis Pubis, which is often associated with AFL. This week  we will discuss one of the more common soccer related injuries which is also associated with groin pain – adductor tendinopathy. What is it?The adductors are a group of muscles located in the medial or 'inner' thigh.… Continue Reading»
Footy season is well and truly underway. Common AFL injuries include hamstring strains, shoulder injuries, knee injuries, groin strains, ankle sprains…. the list is endless! One injury that can rear its ugly head in AFL is groin pain, more specifically Osteitis Pubis. Although it isn't very common these days, a well known recent case is that of… Continue Reading»
International travel is back, and generally with a trip abroad comes a long plane flight! The thought of this can send shivers through those who suffer from chronic lower back pain. But never fear, we have 4 tips to help you manage your pain so that you can go on long awaited holiday! Treatment 🆘First of… Continue Reading»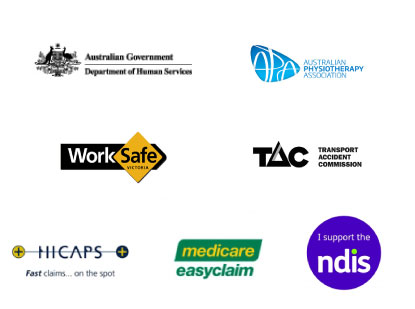 We've got you covered
We treat private patients as well as TAC, WorkCover, Veteran Affairs, Medicare EPC referred patients and are a NDIS registered provider.
We accept all major health funds for patients with private health insurance .
Payment is to be made at the time of your consultation . Payment can be made via Cash, EFTPOS, VISA and Mastercard. A HICAPS system is in place allowing health insurance rebates to be available at the time of your consultation.
Supporting the local Ormond, Bentleigh and McKinnon Community
Ormond Physiotherapy is a community based physiotherapy clinic that has some great local community sponsorship affiliations with a number of sporting clubs, health clubs, gyms and community centres in the surrounding suburbs of Ormond, Bentleigh, McKinnon, Caulfield, Carnegie, East Brighton and Glenhuntly. Read more about our local affiliations…