Excellence Equality Honesty
Boutique physiotherapy clinic
Multi-disciplinary healthcare services
Servicing the community for over 20 years
Physiotherapy in Ormond, Bentleigh & Mckinnon
We proudly offer Physiotherapy and a range of allied healthcare options.
Our mission is to enhance, restore and activate ones functioning, health and mobility following injury or illness.
Through providing safe, effective hands on treatment in a personalised one to one treatment environment.
We treat a wide range of conditions:
Contact us to get you moving pain free.
Latest News & Blog Posts
The weather has warmed, and the beach is calling your name! We bet you've already dusted off your surfboard, and have been carving the waves up.As a surfer, the contact between your feet and the board is essential for you to be able to ride the wave. Unfortunately, foot and ankle injuries are one of… Continue Reading»
With the summer holidays arriving, many of us will be taking to the beaches and heading to the outback for leisurely strolls. With increased walking comes an increased risk of developing Plantar Fasciitis. What is it?Your plantar fascia is a tight band of tissue that runs along the sole of your foot. It starts… Continue Reading»
Stress can cause both a physical and/or mental responses, and is a normal reaction that many people experience when change or challenges occur in their lives. The past two years have been incredibly stressful for many of us, and it's important to look after ourselves. There are times that stress can be a positive thing such… Continue Reading»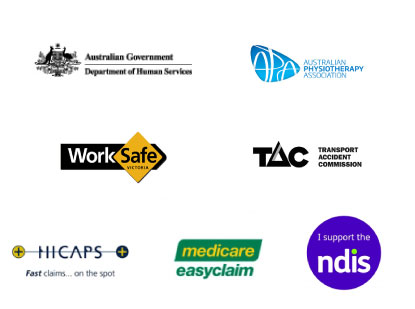 We've got you covered
We treat private patients as well as TAC, WorkCover, Veteran Affairs, Medicare EPC referred patients and are a NDIS registered provider.
We accept all major health funds for patients with private health insurance .
Payment is to be made at the time of your consultation . Payment can be made via Cash, EFTPOS, VISA and Mastercard. A HICAPS system is in place allowing health insurance rebates to be available at the time of your consultation.
Supporting the local Ormond, Bentleigh and McKinnon Community
Ormond Physiotherapy is a community based physiotherapy clinic that has some great local community sponsorship affiliations with a number of sporting clubs, health clubs, gyms and community centres in the surrounding suburbs of Ormond, Bentleigh, McKinnon, Caulfield, Carnegie, East Brighton and Glenhuntly. Read more about our local affiliations…