Excellence Equality Honesty
Boutique physiotherapy clinic
Multi-disciplinary healthcare services
Servicing the community for over 20 years
Physiotherapy in Ormond, Bentleigh & Mckinnon
We proudly offer Physiotherapy and a range of allied healthcare options.

Our mission is to enhance, restore and activate ones functioning, health and mobility following injury or illness.
Through providing safe, effective hands on treatment in a personalised one to one treatment environment.
We treat a wide range of conditions:
Contact us to get you moving pain free.
Latest News & Blog Posts
Life doesn't come with a manual – it comes with a Mum!Mums are our encyclopedia's, for not just in our younger years, but also our older ones. Even when we are all grown up and have moved out, it is still always good to check in with Mum to see how long chicken can stay… Continue Reading»
Neck disorders are common, painful and disabling. Out of all 291 conditions studied in the Global Burden of Disease Study, neck pain ranked 4th highest in terms of disability as measured by years lived with disability. A common oversight when treating persistent neck pain is the shoulder blade (scapular). High quality literature has found specific… Continue Reading»
Now that we are heading into the colder months, muscle aches and pain flare-ups can become more prevalent and any pre-existing injuries or muscle pain may need constant heat to help soothe and heal. But what do you do about mobile heat relief? Most of us can't have a microwavable heat pack with us all… Continue Reading»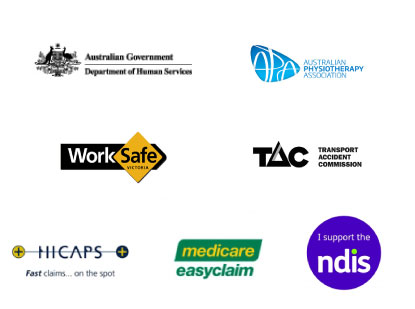 We've got you covered
We treat private patients as well as TAC, WorkCover, Veteran Affairs, Medicare EPC referred patients and are a NDIS registered provider.
We accept all major health funds for patients with private health insurance .
Payment is to be made at the time of your consultation . Payment can be made via Cash, EFTPOS, VISA and Mastercard. A HICAPS system is in place allowing health insurance rebates to be available at the time of your consultation.
Supporting the local Ormond, Bentleigh and McKinnon Community
Ormond Physiotherapy is a community based physiotherapy clinic that has some great local community sponsorship affiliations with a number of sporting clubs, health clubs, gyms and community centres in the surrounding suburbs of Ormond, Bentleigh, McKinnon, Caulfield, Carnegie, East Brighton and Glenhuntly. Read more about our local affliations…